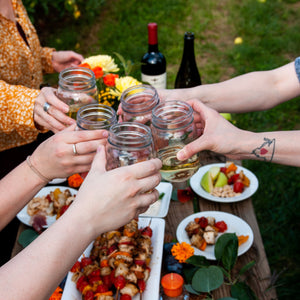 The Virginia Wine Board is responsible for promoting the interests of vineyards and wineries in the Commonwealth through research, education, and marketing. Much of their communication efforts culminate in October, designated by the state legislature as Virginia Wine Month. 
A content partner since 2015, the Virginia Wine Board reached out to VAfoodie for help with raising awareness of Virginia Wine Month and increase sales for the wineries they support.
Working with their team, we developed the Harvest Party campaign. Our photography and graphics were designed to entice our followers to throw a Harvest Party to celebrate Virginia Wine Month by serving Virginia wines and locally-produced food. Custom hashtags and a giveaway campaign helped spread the message beyond our immediate audience.
This campaign increased brand awareness, engaged our local food audience and promoted the diversity of Virginia wines. In year one, campaign efforts educated the audience and set expectations for participation. In 2019, we streamlined the campaign and simplified the contest. The resulting campaign increased engagement by 250%. Over two years, our Harvest Party social campaign garnered 211,611 impressions on Instagram alone.
As a result, the story and initiative of pairing local food with local wines will be a continued narrative for future campaigns and strategy for Virginia Wine. 
Are you a small brand that could benefit from a strategic social media campaign? Let us know! We'd love to help.